Overview on online dating apps
Although the very first computer-based dating service was created in 1965 in the US, online dating has just gained popularity in the last decade thanks to the rise of online dating apps. Since the launch of Tinder in 2012, hundreds of dating services have appeared on app stores worldwide. In 2018, analysts estimate the global online dating market could be worth $12 billion by 2020 (Business Insider, 2018). A more recent estimation for 2020 was conducted by Statista, which is $2.7 billion. It is difficult to evaluate the two estimations. However, in fact, Match Group (the company owns those most high-profile dating platforms including Tinder, Hinge, OkCupid, etc.) recorded its overall revenue for 2019 is $2.1 billion, about 24% increased from 2018. Thus, considering the market players' revenue and high growth rate, the global online dating market in 2020 might be higher than Statista's estimation, at least over $3 billion is expected. According to Dylan Loh (2020) on Nikkei Asian Review, Singapore, Indonesia and Malaysia are the three leading countries in ASEAN in terms of users' spending on an online dating app.
Being one of the youngest and most dynamic economies in the world with 97 million people and the average age of 31, Vietnam does not fall behind this trend. Along with the 68.17 million Internet users in 2020 (accounting for 70% of the population) (We are social, 2020), Vietnam is becoming a potential destination for online dating app providers. According to Tomokazu Imamura, CEO of Ymeetme, the market size was estimated to worth 1-2 million USD in 2018. This number is considered rather moderate, compared with US – 1.5 billion USD and Japan – 400 million USD.
What we have found
In May 2020, B&Company conducts an online survey on its BEAN platform online dating apps usage and behaviours in Vietnam with the participation of 244 respondents aged 18 – 49 years old. Interestingly, more than 80% respondents tried using the dating apps before and about half of them are currently using. Among those current users, 3/4 currently lives in 2 cities: Hanoi & Ho Chi Minh and mainly aged under 35 (84%)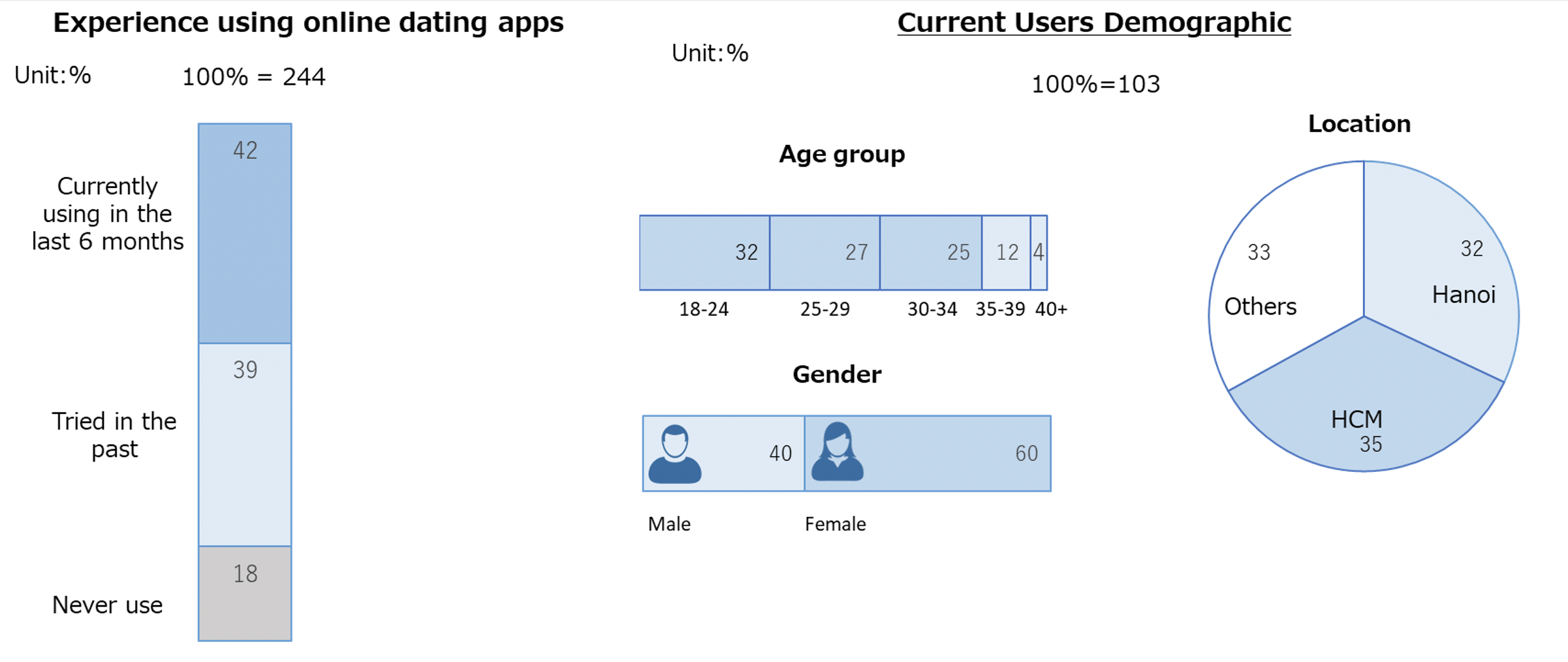 It seems that users are not very serious on official love relationship via online channels as 74% expects to find new friends while just around 30% expect long term relationship or marriage partner. On the average, users normally use dating apps for 3 days a week. People actually got dates from online dating apps, however, the number of dates is rather low. On average, each user has about THREE dates from online dating apps. Up to 79% users have at least ONE date from online dating app. The average number of official relationship got from online dating app is TWO. Only about 9% become couples and 2% married.
Regarding payment behaviours, about 70% users haven't paid for matching online app. Only 30% have paid for the app in which, users aged 25 – 30 tend to be most potential as having high paying intention in the future than other age groups. This is considerable as average marriage age in Vietnam is about 25 years old (GSO, 2019).
Current online dating apps on market
In Vietnam, there are quite many dating apps available in the market, including both local and foreign apps. Facebook Dating and Tinder are the two brands that users use most frequently in the last six months.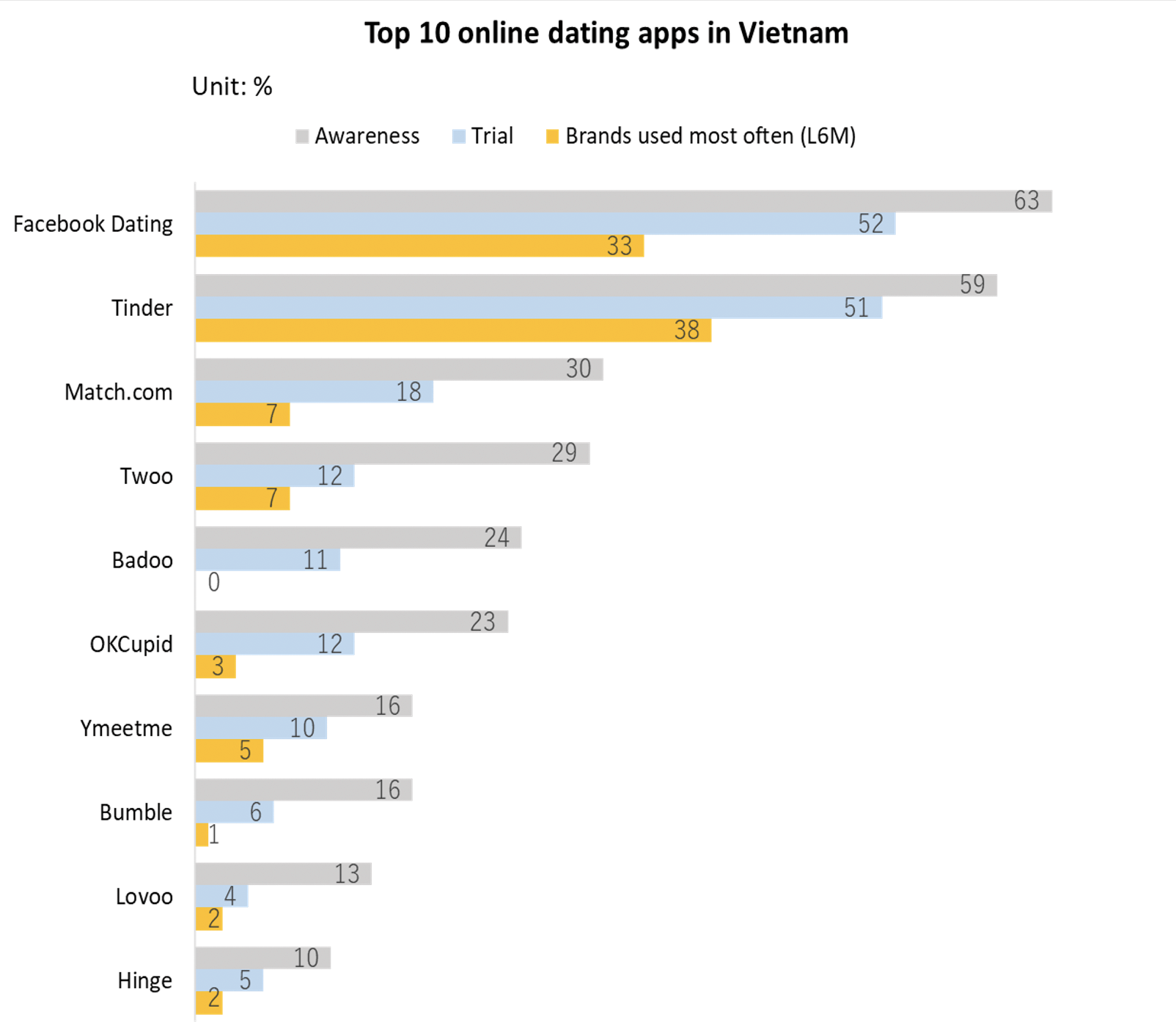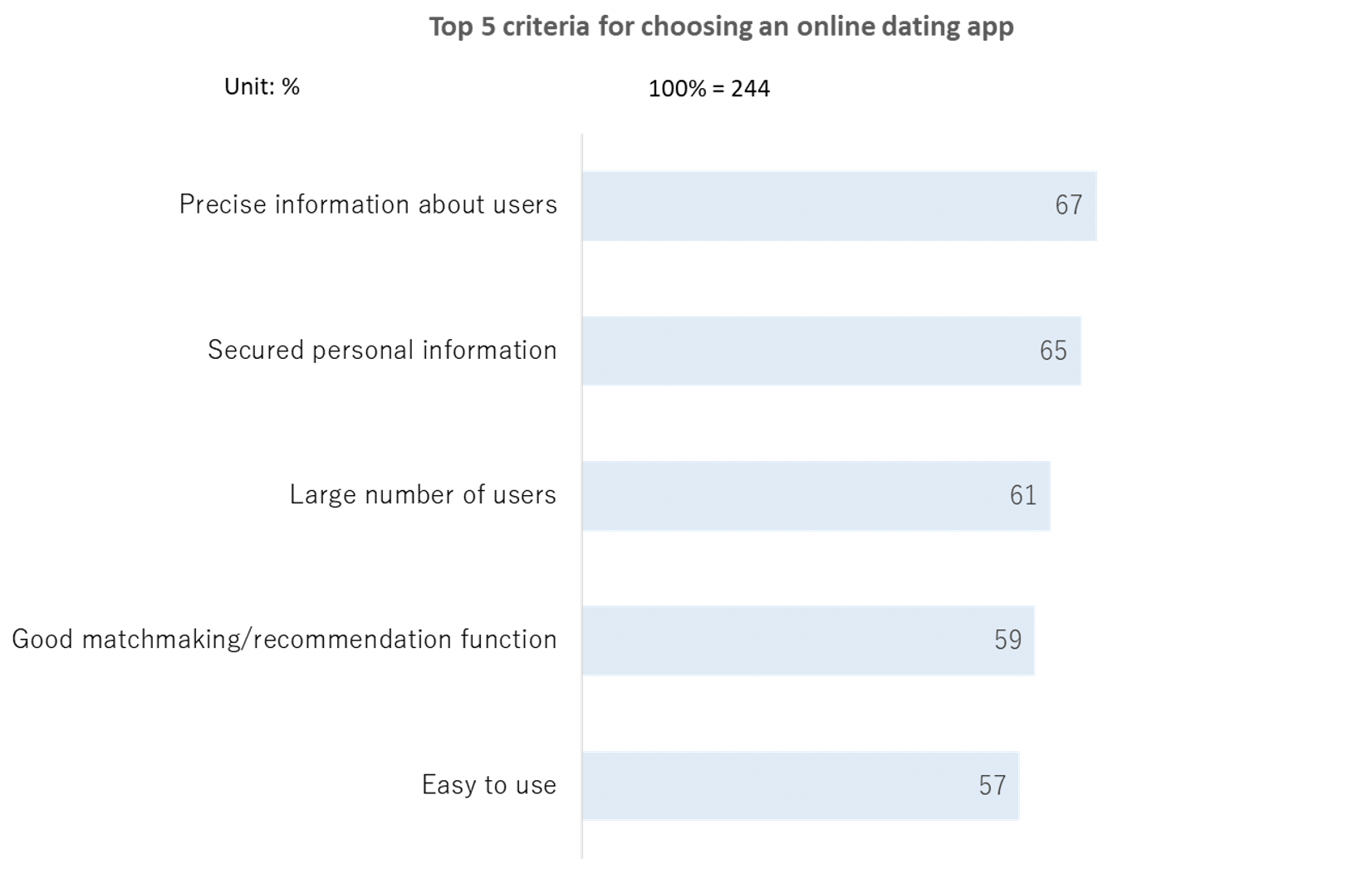 Users of Facebook Dating and Tinder, the two most used online dating app in Vietnam, also choose the similar top 5 criteria as above. However, the ranking is different. "Large number of users" is the main incentive for using Tinder while "Precise information about users" is the stimulus of Facebook Dating.
In a scale of 10, the average score for users' satisfaction of the currently used online dating app is 7. Especially, users are very satisfied with these three aspects: "large number of users", "foreign brand" and "easy to use".
May it replace the traditional dating ways?
Being in the top 15 countries having the highest number of smart phone users (43.7 million people, accounting for 45% of population), along with the openness, technology curiosity and the high demand to connect with others of its citizen, Vietnam is considered a valuable market for online dating apps. In fact, our BEAN survey also shows positive features in Vietnamese users' behaviours such as: the frequency of use or the willingness to pay, etc. Regarding legislation, the only related regulation is generally about Apps on Mobile Devices (Article 25, Decree 52/2013/NĐ-CP). Therefore, until now, there has not been a regulation or restriction for online dating business in Vietnam.
However, the cultural tradition imbued with the Confucian influence of Vietnam is an important aspect that suppliers must pay special attention to in order to successfully deploy online dating services. Furthermore, both non-users and users have certain concerns that need to be tackled. Particularly, many non-users and lapsers (those have not used in the last 6 months) have demand but choose not to use because they do not believe in online relationships. Other common concern involves worries about personal information privacy or fear of bad users. In short, hacking, scam and phishing prevent people from trusting and actually using online dating apps. Investors should thoroughly consider these concerns and develop appropriate strategies.
Phuong Uyen
References:
Infographic: A History of Love & Technology (2013, June 15).
Graham Rapier (2018, October 12). Online dating could be worth $12 billion — and it's all thanks to Tinder, analyst says (MTCH).
Dylan Loh (2020, March 1). App makers cash in as Southeast Asia falls for mobile dating.
We are social (2020). Vietnam Internet Statistics.
Thanh Huong (2020, April 11). Bustling online dating during social distance.
GSO (2019). Press release Results of the Population and Housing Census 2019.
Ha Thanh (2020, February 21). 43,7 million Vietnamese have smart phone.
Trong Dat (2020, July 11). Vietnam is becoming a promising market for online dating apps.